Yes, I shamelessly stole the below post from
Shelley
but I got the idea from
Meredith
. Please go and sponsor one of these angels. Help them get adopted. I'll even tell you which one I am praying for Jesus to make a part of our family. Her name is Liza and she is a beautiful platinum blonde with the most captivating bluish-greenish eyes. There are a couple others who have a soft spot in my heart but she is the one I keep going back to the most. Before it was
Victoria
but her family has found her and I am so happy for all of them. She is going to be so blessed to join her new family as I know they are going to be blessed by her.
And here's another good reason to sponsor one or two or a few: My birthday is in 12 days. In lieu of a present you can just sponsor an angel and we'll call it even :) Seriously though, these kids need families and receiving this sponsor money makes that more a reality for so many of them. If you can't, pass this info on to someone who maybe can.
The Reece's Rainbow Angel Tree project is in full swing. But there's only one more day left to donate and receive an ornament of the waiting angel for your tree! If you'd like to receive a 2008 RR Angel Tree ornament with the photo of a waiting child, go to this link and choose a child to sponsor. A donation of $35 or more and you will receive a beautiful ornament for your tree. I assure you, the ornaments are beautiful(I've spent a lot of quality time with 300 of them, so I should know!). But, more important than the ornament, 100% of the money you donate will go to help the child you choose to find a forever family.
The Angel Tree fundraiser has already raised over $20,000 in grant money for children with Down syndrome all over the world and there's still 15 days left (400 ornaments will have been mailed by tomorrow with a projected 100 more going out next week!). If you want an ornament, you have to donate by midnight on the 15th (tomorrow!).
Also, make sure you scroll to the bottom of the page and look at how many children have already found their forever families since the Angel Tree began on November 1st.
So, what are you waiting on? Click the tree....and give the gift of a forever family this Christmas season!
You know you want to go check out Liza! Click the tree below, please....(with puppy eyes face)
Updated to add the button. Thanks toMeredith for the code.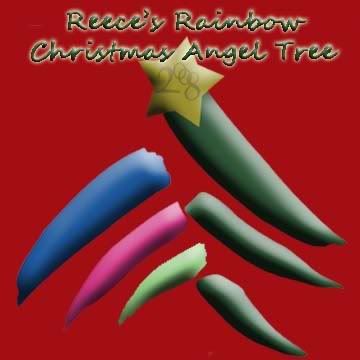 Grab This Button